Notes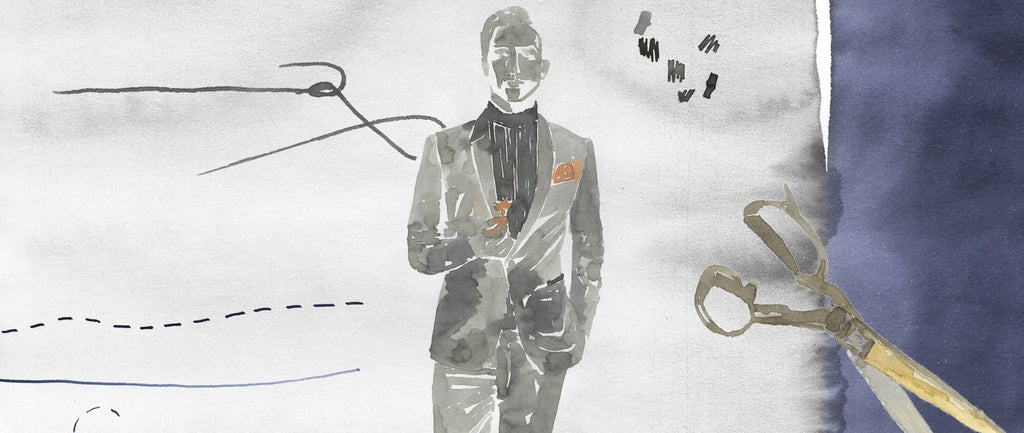 A Tailor-Made Experience
This week, we look into what makes a tailored suit a better experience, as well as how you can recognise good craftmanship...Making a tailored suit requires the necessary know-how: true craftsmanship and a full understanding of the client's morphology are essential. That is why it's very important for me to know a bit more of the client's background. When I take the measurements for a suit, I always take the cultural aspects of my client's work and private life into account. The most important question is: what is the client's purpose with these suits, shirts and trousers?
I know, for instance, that Indian clients prefer wearing loose suit trousers with a high waist. This is very different from Belgian clients, who prefer a lower waist and more fitted version. I want to be a small tailor with an intimate clientele, but with a broad vision.
A great number of clients buy suits for both business and leisure. I have therefore developed different fits and suit bases, so a client can have complete freedom of sartorial choice.
But what does a perfectly fitting suit look like? First of all, people have to feel comfortable in a suit. The made-to-measure suits by Butch Tailors feel like a second skin, regardless of the client's shape or silhouette. He shouldn't feel conscious of the fact that he's wearing a suit, as that would mean something is limiting him.
The focus is on comfort and complete freedom. That way the businessman's hectic work rhythm is not interrupted. You have to feel at ease in whatever you're wearing, every moment of the day. However, at the same time your suit has to create the illusion that you look about three to five kilos slimmer than you actually do.
A few simple rules define a perfectly fitted suit. To take away any doubts on the right length, the form of the shoulders and the length of a properly fitted trouser, I've created a few simple guidelines:
The shoulder  
The sleeve can't show any outline of your shoulder, nor should the sleeve's head sag.
The seat 
The buttocks shouldn't be trapped in the trousers like in cycling shorts; they should not sag like there's room for a rabbit to live in there either.
Jacket closure
There can't be any ripples or creases in the fabric when you close your jacket by a single button. Neither should there be room for an extra guest.
Jacket sleeve  
The shirt cuff should show beneath the jacket cuff by 1 cm. The jacket sleeve ends 1 cm below your wrist bone.
Jacket length  
Your jacket's bottom hem should be just long enough to cover your behind.
Trouser bottom          
The front crease of your trouser leg should 'break' at mid-shin.
Jacket collar   
The collar shouldn't conceal your shirt collar or stand away from it, nor should it buckle.
For more advice on buying your first suit, Finding the perfect fit, taking care of your suits and more, follow my LinkedIN and Instagram for weekly advice. Interested in buying your first tailored suit? Then book an appointment with my assistant.