Notes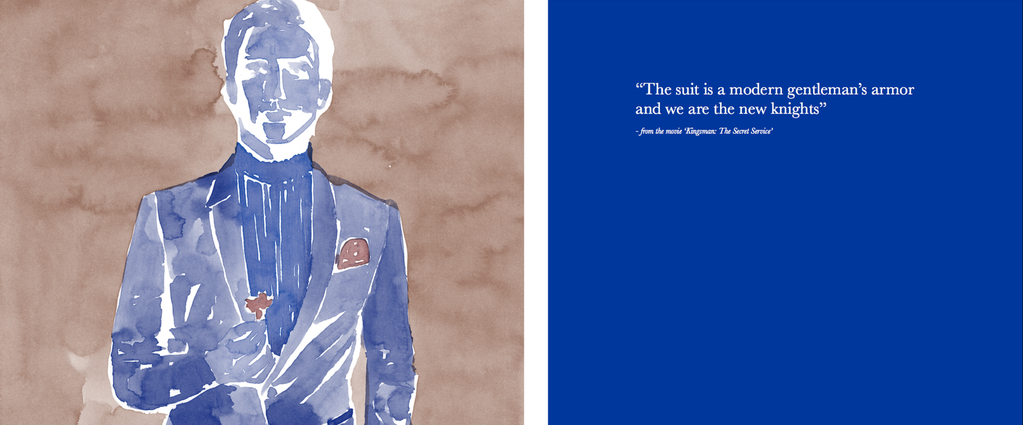 Gentle Manifesto: a sartorial fit guide for the eligeble Suit Virgins
The journey to your first suit is an emotional one. As with everything, make sure it's the right fit.
There is always a first time. The first time a man feels what it's like to wear a custom-made suit. He will feel there is a spectacular sensation to breathe, live and think within a suit that was made especially for him. Only for him, not for just anyone out of a thousands who picked it from a rack and tried it on. 
However, without the right guidance, finding the perfect fit is like searching for a needle in a haystack. As the founder and flying tailor behind Butch Tailors, I have seen my fair share of abomination within the sartorial playing field. Fear not: there are a set of simple guidelines to avoid making your first suit a bad experience. Be mindful of the details highlighted below, and you should be fine:
1. Shoulders
The perfect jacket will strengthen your shoulders, not widen them. Your shoulders must be held firmly, but gently, so keep it fairly natural.
2. The collar
Your jacket's collar should sit well on your shoulders. It should not buckle, stand away from your shirt's collar, or conceal it. Half an inch or one good cm of shirt collar should be visible in the back.
3. Torso
The sides of your jacket should be sneaked in slightly, to highlight the shoulders. A fitted and darted waist will make you look more slender and give you a more dynamic shape.
4. Sleeves
A perfectly tailored jacket will have higher and smaller armholes and narrower sleeves. Excess fabric on the sleeves only leads to frumpiness. The back of your jacket sleeve should just meet your wrist-bone. The outline of your own shoulder should never appear in the sleeve, and the top of the sleeve should never be saggy.
5. Jacket length
The bottom hem of your jacket should level with your knuckles where your fingers join your hand. Beware: only your tailor will have an eye for the perfect length of your jacket. The length of the perfect jacket will depend on your height and body type and will make you look taller. The jacket ratio is like the Golden Ratio in classic art and architecture. 
6. Cuffs
The shirt should show 1⁄4 to 1⁄2 inch or around 1 cm underneath your jacket sleeve, as it lengthens the look of your arms. How many buttons on your jacket cuff? The tailor's choice is four, but you can always choose three, two or even one button. Only sleeves with cuffs you can unbutton are the sign of a well-tai- lored suit.
7. Belt
If your pants fit well, don't wear a belt. If you prefer to wear one, make sure it matches your shoes.
8. Pants
They should make you tall and handsome, so opt for a flat front and a slim straight cut that gives you a sleek silhouette, with very little break at the ankle. Too much break will make your pants look baggy. If the crease is just straight without break, then your pants are probably too short. Unless you choose to go a bit more 'fashionista', of course, with straight slim ankle-length pants and no socks, but not every man can accomplish this kind of sprezzatura.
9. Shoes
Black lace-ups are the best choice for every suit. They are the most dependable and versatile shoes you can own. Keep away from square toes. And always keep your shoes clean. Use a cedar shoetree to keep them in shape at night. 
10. Lapels
The kind of lapel de nes your suit more than anything else. Opt for a contemporary narrow lapel. The width of your lapel should be in proportion to the width of your tie. A small high notch right on the collarbone is the mark of a splendidly made suit, a minor detail of major importance to connoisseurs.
11. Blue wool
A blue suit is the most modern shade your suit can have. It's professional, stylish, and enhances every man's radiance. It's dark enough to be earnest, but light enough and classier than rigid black. A wool blend will allow you to wear your suit year-round. Wool with a texture will add sophistication to an otherwise simple suit.
12. Handkerchief
Your top pocket square is a fine device to draw attention to your chest and face, whilst diverting attention from your belly. You don't want too many eyes resting there, unless you're the owner of a sixpack.
13. Tie
The top of your tie should end at your beltline. Let your tie be bold and classy. Your sense of humor must be noticeable from your words, not your tie. Keep the pattern subtle.
14. Buttons
Two is standard, three is a variation. Which one should be closed? Know those button rules before you play the suit game.
15. Watch
That timeless piece of jewelry is like the cherry on the cake. Choose it carefully. Don't go for the big bling. Respect the gentleman's watch code. Never underestimate the power of understatement.
16. Tailor-made
Spend your money wisely. Don't buy three cheap suits. Buy one excellent suit instead. Choose a reputable tailor to custom make it to your size and your way of life. He will make you a fabulous and comfortable suit that brings out the best in you. 
"Imperfection, as a result of devoted handwork, is the only true perfection." — Dominique Vindevogel
The Gentle Manifesto contains excerpts from 'Mr Blue' by Butch Tailors, the sartorial guide and collectors item for the modern day gentleman. Spread over more than 70 pages, Dominique 'The Flying Tailor' Vindevogel shares his sartorial experiences through his personal stories, favorite locations and unique tailoring tips and tricks. For more information, click here to be redirected.