Notes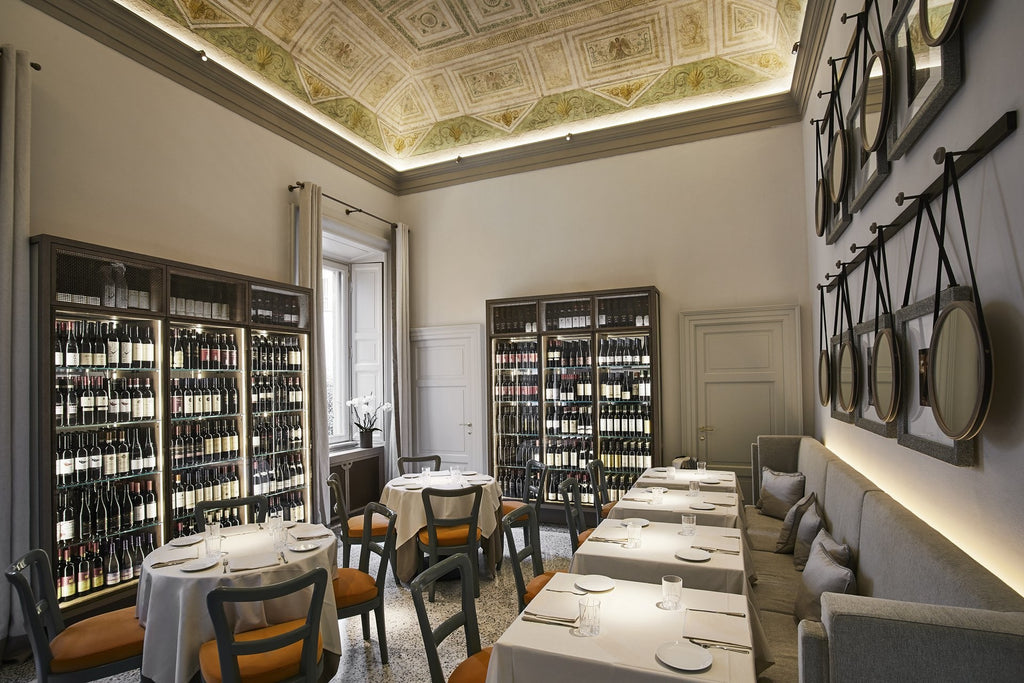 Destination 2.0: Milan
An oversight occurred. In the first range of travel guides shared by me during the creation of the Mr. Blue book, we didn't include Milan. Yet this is one of the most interesting cities, one that I do feel must be included now. As I'll be visiting the Milano Unica fair next week, from February 5th to 7th, there's no better time than the present.
Restaurants
Opened during the March edition of Salone del Mobile, the latest location of Paper Moon giardino is the dining experience when visiting Italy. The first location already had the esteem of being Gianni Versace's favorite restaurant. Now that a new location has been opened – one designed for the 21st century - reservations are a must at this classic Italian restaurant, located around the corner from fashionable Via Monte Napoleone. Pastas such as homemade tagliolini with shrimp, fresh zucchini, and zucchini flowers, and any of the grilled meats, are popular - or try a pizza with shaved truffles.
Another favorite location of mine is Langosteria: all Italian, specialized in fish and more than just a restaurant.
Since Langosteria opened in 2007, it expanded with a bistro in 2012, and even a Café in 2016. But beyond that, it is a fine dining pieds-dans-l'eau experience in the splendid setting of Paraggi, pearl of the Ligurian Riviera. It is oysters, raw and king crab at high altitude. Especially after a long day, there's nothing better!
A pearl in the ocean of Milanese fish restaurants is without a doubt La Risacca 6. Starting from the reception, one can see tanks of live fish and a bar of iced seafood; on the way to the table, when catching a look at the kitchen, you may glimpse a wizened chef sternly guiding his staff. With an emulated backdrop of the sea, luscious waves of courses with some of the best fish dishes imaginable appear on the table. Both the oysters, lobster and calamari are highly recommended. A bit out of the center, but definitely Milan's greatest secret in fish.
Hotel
When historic Italian jeweler Bulgari expanded into hospitality in 2004, it chose Milan as of the city to behold its vision for a five-story boutique hotel, where under a clean, black-and-white marble facade with black granite eaves and dyed oak frames, privacy is golden and opulence is at every turn. This type of decor is, as you might imagine, the perfect setting for a meeting with clients or ways to escape the hectic nature of Milan's city life.
The idyllic Chateau Montfort is another recommendation that creates a fairytale like experience combining art and fashion in one. Each of the 77 rooms are overwhelmed with a charming atmosphere along with some retro style details and a special glamour touch.
Culture
Take a walk through the courtyard at the Prada Foundation, a distillery turned contemporary art complex designed by the OMA design firm led by Rem Koolhaas. I highly recommend this to any art lover visiting Milan. The complex first opened in 2015, and updated the experience with a new nine-story tower, which was completed early 2018. Are you deciding to visit the Milano Unica fair as well? Then feel free to contact me. It's always essential to extend our professional networks and get to know more people. Possibly, your best suit yet might result out of the connection. The flying tailor, at your service…