Notes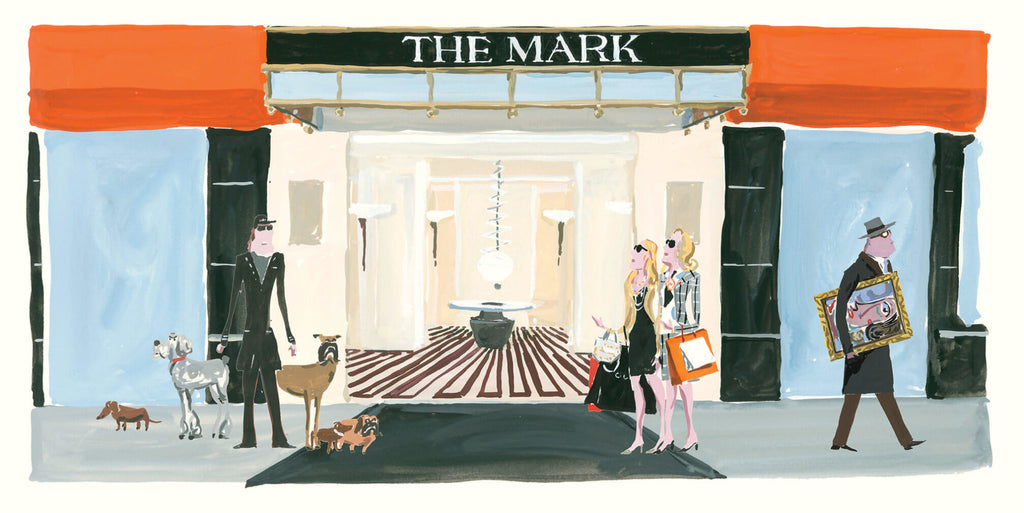 Destination 2.0: New York
The first time we set out to curate the best locations to visit in New York was back in 2016, during the creation of the Mr. Blue book. But as anyone knows, the Big Apple is a pulsating and thriving organism that evolves faster than any city on our planet. That's why, in anticipation of my trip to NYC from February 1 - 5, I've updated the list of places and spaces to visit in 2019.
Restaurants
Why would you go to New York to experience French cuisine, when they're Belgium's neighboring country? It might surprise you, but Coucou has been heralded as THE restaurant to visit and was recently rewarded a Michelin star. Stephen Starr, the restaurateur who made his name in his home town of Philadelphia, got together last summer with Chicago-born chef Daniel Rose, from Spring in Paris, to open Le Coucou. In their own words, they'd describe it as 'Lutèce meets Lou Reed'.
The menu is arranged by "hors d'oeuvres", "gourmandises", "poissons et viandes" and "gibier" (game), and sports typically French dishes. For example, some of my favourites include the black bass and shellfish bourride– a traditional Provençal fish stew, the sole Véronique - a pheasant for two cooked with foie gras and cabbage and the tuffed loin of wild hare with "relaxed" foie gras.
The interior itself is also a gamechanger, breaking the conventions of the existing building and contrasting with the clean Scandinavian lines of the newly remodeled hotel.
Another great place to visit is Sant Ambroeus, which is close by one of my other favorite places to stay-over during my transatlantic commutes. As mentioned in the first travel guide, Cipriani is also still an undefeated classic in Italian cuisine.
Hotel
In New York I'll be staying at The Mark. It's probably New York's most lavish hotel - a personal favourite - with a great location near Central Park. It's also on the corner of Sant Ambroeus - my favourite lunch cantina. Its own restaurant is also perfect for power lunches and the chef has a hotdog stand just outside, so don't expect anything but the best.
Besides the impeccable service and tongue-in-cheek humor underlining the sophistication, this hotel easily wins the first prize is because it's a quiet place within a hectic city that feels like a second home. Another interesting tidbit is their work with renowned illustrator Jean-Philippe Delhomme, who I've been a fan of since his early works.
Bar
For a jazz session, I highly recommend Café Carlyle. It's a pure celebration of the golden ages of New York jazz and cabaret, serving the classics the way they're meant to be.
For something experimental and conceptual, I'd also recommend Dear Irving, which is a speakeasy bar that takes you through the finer ages of New York's historical style periods.
Culture
First off, one that you cannot miss is the Warhol exhibition at the Whitney Museum of American Art. From A to B and Back Again is not only a brilliant title, but an extensive demonstration of new complexities about the Warhol we thought we knew, reinvented and contextualized for the 21stcentury. Building on a wealth of new materials, research and scholarship that has emerged since the artist's untimely death in 1987, it's a must-see for everyone interested in the modern arts.
Close to the Mark Hotel lies the Gagosian, the smaller counterpart of its Parisian location, which will show an exhibition by Marc Newson from January 17thto February 20th. Newson doesn't boast his work to the world often: from the iconic Lockheed Lounge (1986) to his latest presentation of the streamlined Extruded Tables and Voronoi Shelf (both 2006), carved from single blocks of Carrara marble, Newson approaches design as both an exploratory technical exercise and a process of conceptual, aesthetic, and physical refinement.
I also try to stop by Maison Gerard, a gallery that also happens to exhibit some of the most exquisite works of furniture by my good friend and brand ambassador Achille Salvagni. At the beginning of 2017, they highlighted some of his best work during Achille Salvagni: Five Years of Creation– an exhibition I fondly remember. In half a decade, Salvagni has created more than 140 pieces of furniture and tabletop while still continuing his work in decorating. As a tailor, I can only appreciate that sort of craftsmanship.
Another exhibition that I'd highly recommend is yet another gallery which has a counterpart in Paris, but which – even closer to home – exhibits the works of Belgian artist Pieter Vermeersch. Gallerie Perrotin has his color installations, as they're more than just works of art, set-up in the Lower East Side of Manhattan.