Notes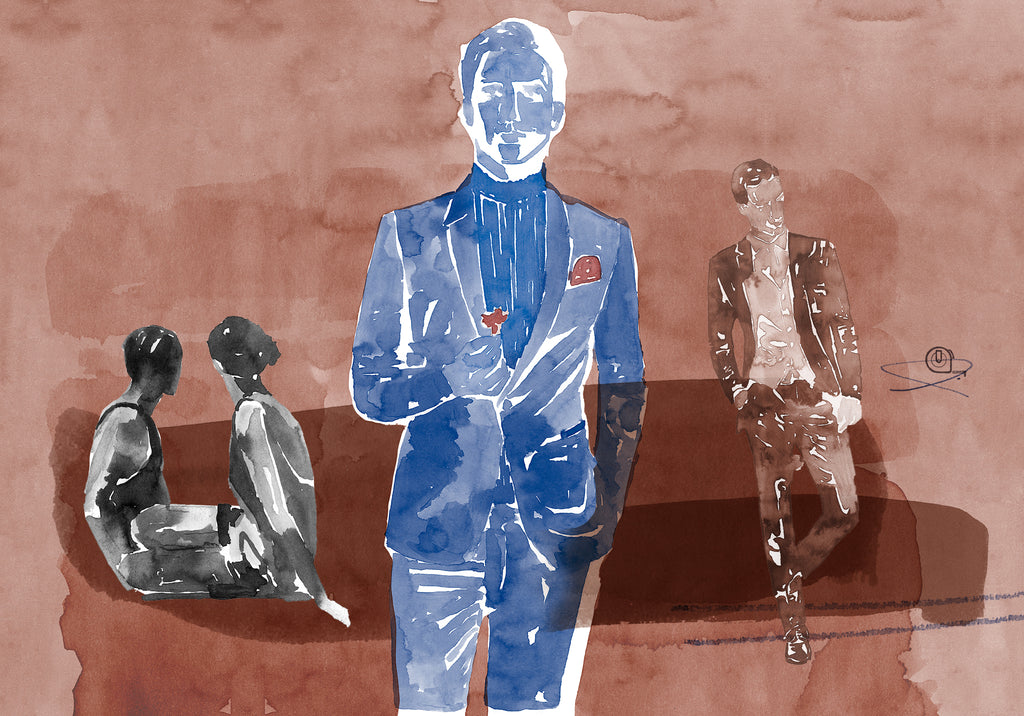 The Winter Wedding
Aside from the question of who of sound mind would plan their big day in the darkest depths of winter, figuring out what to wear for a winter wedding is more often than not a complete pain in the backside. Counterintuitively, deciding which garments to put on to commemorate the everlasting union of two akin souls is tedious, unromantic and devoid of warm feeling.
While I can't advise on how penny-pinching or royal you should go for the gift, I can advise on how to conquer the winter wedding attire. Whether you're a groom, part of the wedding party or only been invited to the after-party, please treat these three rules as holy:


Read The Dress Code
Many couples spend hours agonizing over the texture, paper and design of their invitations, but casually ignore the ambiguity of their dress code. Here is how to read between the lines and actually understand what your guests expect of you:
Black Tie (Optional):
If the invitation prescribes black tie, refer to a tuxedo, white dress shirt, black bow tie, black high-shine shoes and black socks. 'Black tie optional' is similar, though you can go less formal with a plain black neck tie. For more on that perfect shirt and tuxedo, go here and here. One thing people forget: if you know the rules, you also know when to break them. That's why you could always consider a bit of midnight blue!
Semi-Formal:
This one is a trickier format to master. A full suit is a must: Mr. Blue would recommend navy, but variations on grey like charcoal and anthracite are all acceptable here. With accessories, you've got a little more margin. A tie is always safe. 


Personalize the Look
Another thing that I'd really love in a wedding suit is personalization: I rarely ever make a wedding suit without any personal details stitched inside the suit. You can add the wedding date and initials, perhaps in the inner lining or collar. Comfort is also incredibly important.
Never rent a suit if you can invest in something tailor made. Rental suits feel heavy and uncomfortable. They're never the exact right fit. A tailor-made suit by Butch or our Mr. Blue label - and I can vouch for that - will look like a premium suit, but feel as comfortable as a track suit. 


The Perfect Daytime to Nighttime look
 For your winter wedding outfit's overall feel, it's all about location, location, location. If you've got a city wedding invite, pinstripes, checks and colors like navy, black and red will form allied accents for the color of your accessories. Suits for country winter weddings should mimic the colors of nature (green, brown, rust), although textural fabrics such as tweed and wool also lend themselves to a deep charcoal.
Daytime guests have the trickiest job dressing for a wedding, even more so than the bride, because they can't change the look mid-wedding. They will also be staying throughout the whole experience, making versatility and flexibility essential, and comfort non-negotiable. You've got to go formal - a wool suit in navy, grey or black are the best winter-ready options and you can even add some check or pinstripe. The options are limitless, but I will guide you though the process and consult you on the best look. For footwear, black of brown Oxfords will work perfectly well with all of the above. Classic shirt and tie combinations are obviously a safe bet, but for a more modern look try a collar shirt and a pocket square to liven things up a little – but only if the wedding is on the casual end of the spectrum.